Alluxio can help data scientists and data engineers interact with different storage systems in a hybrid cloud environment. Using Alluxio as a data access layer for Big Data and Machine Learning applications, data processing pipelines can improve efficiency without explicit data ETL steps and the resulting data duplication across storage systems.
In this Office Hour you'll learn:
How to set up Alluxio so that applications can seamlessly read from and write to different storage systems (including cloud storage like AWS S3, Azure Blob Store and on-prem storage like HDFS)

How to analyze data access pattern and also manage data lifecycle in Alluxio using Alluxio web UI and shell commands

Open Session for discussion on any topics such as solving the separation of compute and storage problem, and more
Interested in learning more?
Thanks for your interest! This event has concluded.

Alluxio for Hybrid Cloud | HDFS and AWS S3 demo
Bin Fan is the founding engineer of Alluxio, Inc. and the PMC member of Alluxio open source project. Prior to Alluxio, he worked for Google where he won the Technical Infrastructure Award. Bin received his Ph.D. in Computer Science from Carnegie Mellon University working on distributed systems.
Evangelist and Founding Member at Alluxio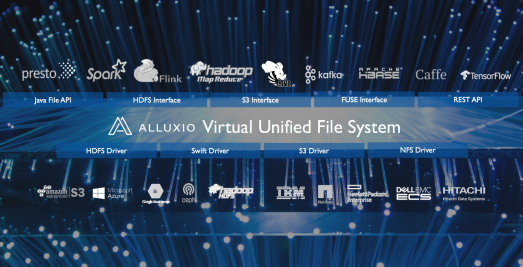 ...open-source virtual distributed file system that provides a unified data access layer for hybrid and multi cloud deployments.
Alluxio resides between storage systems such as Amazon S3 or Apache HDFS and computations frameworks and applications such as Apache Spark or Presto.
With Alluxio, your data is centralized and applications have a single common interface and namespace for data access.